This article is about the anime of Legendz series. For other uses, see Legendz (disambiguation)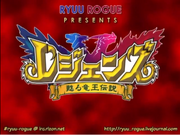 This is about the anime adapted from the manga series, Legendz: Tale of the Dragon Kings (レジェンズ 甦る竜王伝説 Rejenzu Yomigaeru Ryūō Densetsu).
The Legendz anime moves away from the Pokémon-esque "gotta catch em all" theme and monster training aspects and deals more with the overall background of the monster characters and their story.
The Legendz anime opens with the discovery of the "Soul Dolls" which contain legendary creatures of incredible power within them. The Dark Wiz company (DWC) wants access to all of them for unknown reasons, but four of the Soul Dolls go missing. An 11-year old boy, Shuzo Matsutani receives a non-functional talispod from his father. He is confronted by three strange characters from Dark Wiz Company who wants his talispod. During the chase, Shu receives the souldoll of one of the Great Legendz, Shiron the Windragon. His friends, Meg, Mac, and Dino gets their own talispods and their Legendz as well and they must avoid a war of Legendz that will cause destruction to civilization. The majority of the anime takes place in Brooklyn, New York City, with the Brooklyn Bridge as a much-featured landmark.
Characters
Edit
Main Characters
Edit
Secondary Characters
Edit
Antagonists
Edit
List of Episodes
Edit
Main Article: List of Legendz (anime) episodes
The anime is animated by Studio Gallop and directed by Akitaro Daichi, and aired on Fuji TV from April 4, 2004 to March 27, 2005. It ran for total 50 episodes.
Community content is available under
CC-BY-SA
unless otherwise noted.