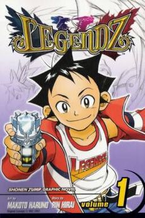 This article is about the manga of Legendz series. For other uses, see the page Legendz (disambiguation).
This is about the manga of the Legendz series. The manga is illustrated by Makoto Haruno (春野 まこと Haruno Makoto) and the story is by Rin Hirai (平井 隣 Hirai Rin).
The Legendz manga is about a boy at Ryudo Elementary School (竜童学校 Ryūdō Gakkō) named Ken Kazaki, who, along with his loyal Windragon, Shiron, battles other people who raise and train monsters called Legendz. He later enters the Legendz Carnival competition, where he learns of his identity as the Wind Saga and an evil called Necrom that threatens the world. Ken also met the Fire Saga Leo Engokuin, as well as a contestant named Kaoruko Goshika, who is later revealed to be the Earth Saga.
Characters
Edit
Main Characters
Edit
Secondary
Edit
Hideaki Hiyama
Hosuke Dekai
Shunsuke Dekai
Namio Afuro/Namio Curly
Eiji Yashiro
Mio Engokuin
Vivian Kazaki
Ryudo Elementary Four
Edit
Yuki Amagi
Maki Mitsui
Mitsuru Aoi
Kokuryu Elementary
Edit
Meiko Kajiwara
Kokuryu Elementary Blackhounds
Antagonists
Edit
Jabberwock
Skeleton Lord Lich
List of Volumes
Edit
Main Article: List of Legendz (manga) volumes
The manga was published in Shueisha's Monthly Shōnen Jump in Japan, and the manga is published in English by Viz Media. It was published in total 18 chapters in 4 volumes. The manga had to be cut short due to the complete shutdown of Monthly Shōnen Jump.
Community content is available under
CC-BY-SA
unless otherwise noted.