The Legendz Club (レジェンズクラブ Rejenzu Kurabu) is a club created by
Shu
in Episode 29. It has a theme song and a cheering song, both made up by Shu as well.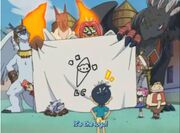 Although everyone was against the idea of making the club (except Mac), Shu insists and starts making up names; Legelegelegendz Club (like his baseball team: Rikirikirikisu) and Legendz and Happy Friends. In Episode 30, Dino sings the club's theme song and activates Greedo's Command Blazedragon. Their uniform was a bandanna with panther dots pattern, which is never used because they think it make them looks stupid.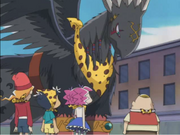 Shu: President
Mac: Beautification
Meg: Bunny Caretaker
Dino: Etiquette Counselor
Shiron: Vice-President
Garion: Lunchlady
Zuou: Nurse
Greedo: Treasurer
Wolfy: Coach
Leon: Librarian
Ranshiin: Electric Fans Repairman
Shu almost always forgets everyone's title.
The titles everyone holds is never shown to be used as supposed.
Community content is available under
CC-BY-SA
unless otherwise noted.