Salamander is a Fire-type Legendz who works at the Crocodile Cave Cafe under
Dandy
. He first appeared in
Episode 20
 as the owner of a hot dog stand on
Coney Island
.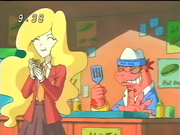 He was later summoned by
BB
 to obtain the
Talispod
from
Shu
, but got defeated by
Shiron
.
Salamander's tail is a 'fire hose' that sprays fire in small amounts. This he used to 'attack' Shu in Episode 20. He is normally dressed with a black vest along with a ring on each wrist.